Guide to U.S. Indian Princess Three Dollar Gold Pieces
Within American numismatics, there have been a number of denominations which were struck for several decades but eventually discontinued and largely forgotten by the general public. Among these is the three dollar gold piece, which was introduced in 1854 and struck each year until the denomination was abolished in 1889. Encompassing a single series featuring an Indian Princess, mintage levels remained extremely small, in most cases fewer 10,000 pieces per year. Notably, two issues of the series are represented by only a single known specimen.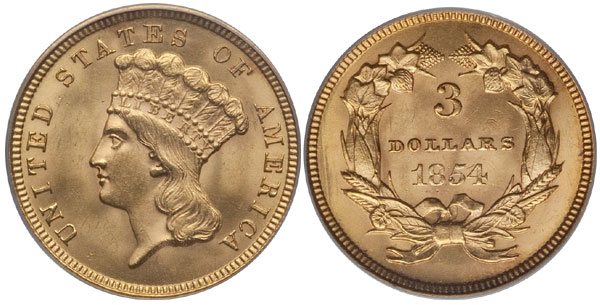 The three dollar gold piece has an unlikely origin rooted in both philately and numismatics. In 1851, the United States Postal Service reduced the cost of postage stamps from five cents to three cents. The three cent silver piece was introduced the same year to facilitate the purchase of stamps. By similar logic, the three dollar gold piece was introduced in 1854 to make it easier for individuals and businesses to purchase full sheets of 100 stamps.
The denomination was officially authorized under the Act of February 21, 1853. The coins would be designed by United States Mint Chief Engraver James Barton Longacre. He designed the three dollar gold piece at the same time he redesigned the gold dollar, and the designs are virtually identical. The obverse of the coin carries the image of a so-called "Indian Princess" representing Liberty, facing left. She wears a crown of feathers with the band inscribed LIBERTY. The words UNITED STATES OF AMERICA surround the image. On the reverse, there is an agricultural wreath composed of tobacco, wheat, corn, and cotton tied with a bow at the base. The denomination 3 DOLLARS and the date appear within the wreath.
Production of the Indian Princess Three Dollar Gold Piece would commence in 1854 at the Philadelphia, Dahlonega and New Orleans Mints. While the Philadelphia issue had a sizeable mintage of 138,618 coins, production at the other two facilities was much smaller. After the inaugural year, mintages quickly declined. For some of the later years of the series, production was extremely limited, and it appears the Mint only produced circulation strikes to prevent the proofs from becoming instant rarities. Most of the proofs had mintages of less than two dozen, with the highest mintage reaching 291 pieces in 1888.
As usage of the denomination within circulation had proved minimal, the primary uses had narrowed to gift giving and ornamentation in jewelry. Some members of the public also began to speculate in three dollar gold pieces, hoarding the lower mintage dates. In 1889, the Director of the Mint wrote to Congress stating that the denomination served no useful purpose and advocated for its abolition. Production would cease after 1889, and Congress officially abolished the denomination on September 26, 1890.