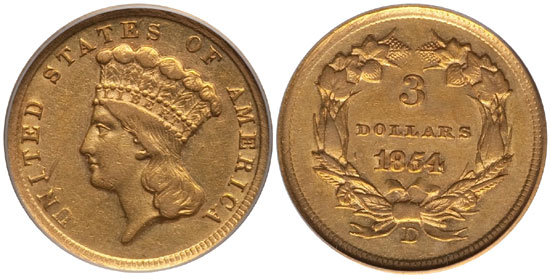 The 1854-D Three Dollar Gold Piece is one of the most popular issues of the series. This popularity stems from multiple factors. The coin represents the first year of issue for both the series and denomination, it represents the only issue for the denomination struck at the Dahlonega Mint, and finally it boasts an extremely low mintage of 1,120 pieces.
From the original mintage, it has been estimated that 125-150 examples survive, with very few pieces known to exist in uncirculated condition. As with many Dahlonega gold coins, strike is a problem, and virtually all known survivors show weakness on the high points.
An example of this coin graded NGC MS 62 realized a price of $149,500 when sold at auction in April 2006.